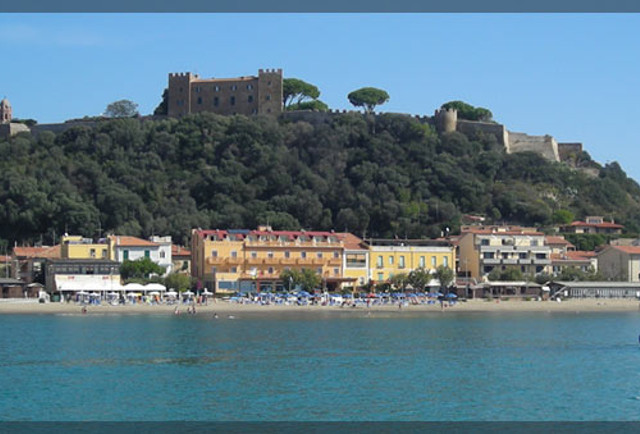 CULTURA E SAPORI DEL TERRITORIO
Between the blue of the sea and the green of the hills is nestled Castiglione della Pescaia, renowned seaside resort, famous in the Italian and international tourist panorama and for its beautiful beaches and rich pine forests. For sport lovers, it is possible to practice windsurfing, kitesurfing, sailing, golf, mini golf, equitation, mountain biking and trekking.
On its summit, in dominion over the sea, is stretched out the ancient medieval village closed by formidable city walls with towers, gates and a castle.
The Diaccia Botrona is a natural reserve, considered one of the most important wetland areas in Europe, which hosts an incredible variety of migratory and aquatic birds.
An emblem of the swamp and its reclamation is Casa Ximenes.
The area of the hinterland is rich in gorgeous natural environments and small villages, such as Buriano, Tirli and Vetulonia.
Immersed in the green of a forest of holm-oaks and chestnut trees, rises Tirli. Despite its proximity to the sea, it has the characteristics of a hilltop village, with a cool and dry climate, ideal in the summer period. In the typical Mediterranean maquis vegetation that surrounds the village, many species of wildlife find shelter, especially the wild boar, which has become one of the gastronomic specialties of the area.
Anyone who visits the village of Vetulonia can admire the vestiges of the ancient Etruscan civilisation at the necropolis, where there are the tombs brought to light by Dr. Isidoro Falchi, and in the area of Costa Murata, where one can see the Domus Etrusca, as well as at the Archaeological Museum that bears the name of the Doctor who conducted the explorations that brought about the discovery of the ancient Etruscan town of Vatl.
Buriano is a characteristic village in which medieval and renaissance architecture interweave with a marvellous naturalistic landscape which dominates the plains until reaching the sea.
Surrounded by a stupendous natural environment, Punta Ala is renowned for its fully equipped tourist marina, in which it is possible to stroll among shops and restaurants, admiring boats of every type and the numerous regattas that periodically are organised there.