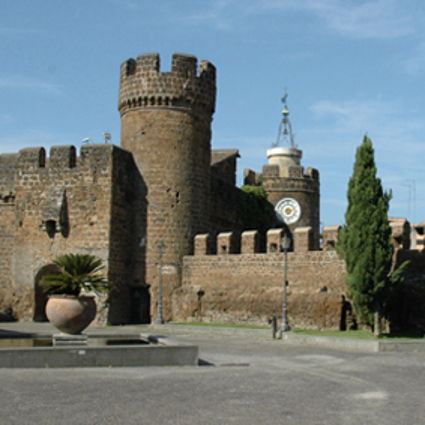 CULTURA E SAPORI DEL TERRITORIO
With its 3000 years of history, Cerveteri is one of the most ancient cities of the Mediterranean.  Situated to the north-west of Rome, it is very close to the Fiumicino airport and the marina of Civitavecchia. It is located a few kilometres from the sea and is surrounded by rolling hills; the atmosphere of these places is magical, because one finds coexistence there - in reciprocal fusion - of history with its myths and nature; the territory is constituted of tufa stone and watercourses that with their flow have shaped the landscape, giving birth to numerous waterfalls and areas of great naturalistic interest.
Its tourist pole of attraction is the Etruscan Necropolis of Banditaccia, one of the most important archaeological sites of Europe, UNESCO site since 2004. The Banditaccia is also a true naturalistic oasis in which the colours and scents of the Mediterranean maquis vegetation blend with the testimonies of the ancient Etruscan civilisation. Pine, oak and cypress trees are abundant above and around the large mounds, creating ample shady spaces that are further exalted in the summer by the sea breeze. The area that can be visited comprises more than 2000 tombs that have been dug in the tufa stone. Among the most famous and well worth the visit is certainly the Tomb of the Greek Vases and the Tomb of Reliefs; the latter in particular does not allow direct access due to issues of conservation, but a glass panel has been placed so that one may admire without difficulty the extraordinary repertoire of objects of everyday Etruscan life moulded in the stucco.
Since 2012 it is possible to explore the necropolis following the new multimedia path and its impressive 3D projections realised within the most important tombs. Once one has concluded the visit, a visit can be made to the National Museum, situated in the historical centre, where the most important burial treasures found in the necropolises of the Ceriti zone are exhibited. The two masterpieces by Euphronios stand out: the Kylix and the Krater, splendid Attic ceramics with red figures.
The Ceriti Hills lend well to the cultivation of grapes and to the olive tree. In the historical wineries and mills one will savour the finest wines and excellent oils. Depending on the season, one can sample various salamis, homemade bread, cheese and fresh or prepared artichokes, typical of the local cuisine.