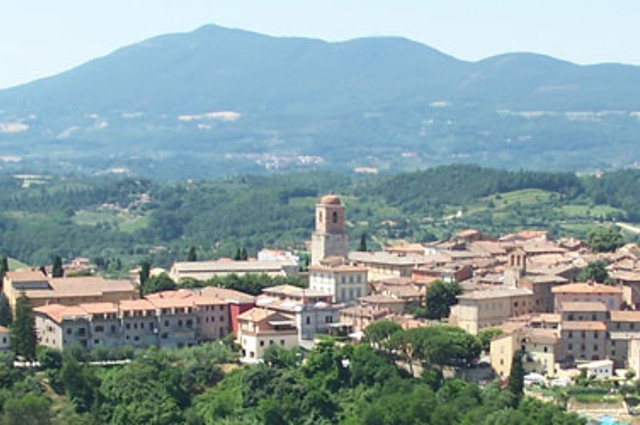 CULTURA E SAPORI DEL TERRITORIO
The town of Chiusi is in Tuscany, to the south of Siena and it has always held a strategic position: on the border with Umbria and close to Lazio; perfect destination to immerse oneself in history and nature, in order to rediscover and enjoy the pleasures of a land that is simple, generous, rich in flavours, anecdotes and traditions.
The first traces of settlements in Chiusi date back to the end of the 2nd millennium B.C. Thanks to very fertile alluvial soil and to the land and river routes of communication, both natural and artificial, Chiusi-Clevsin became one of the most important cities of Etruria and part of the Dodecapolis. The summit of its power was at the end of the sixth century B.C. when, under the guidance of King Porsenna, even Rome was besieged and controlled for a short period. In 89 B.C., with an extension of Roman citizenship to its inhabitants, the entry of Chiusi into the orbit of Rome was formalised. Its prosperity continued in the Imperial Age, during which Chiusi-Clusium remained a significant transit point on the Consular road of Via Cassia and on the Clanis River, then an inland waterway reaching the Tiber. In the 3rd century A.D., the city was also an important centre for the spread of Christianity, as is witnessed in the Catacombs of Santa Mustiola and Santa Caterina and the Cathedral of S. Secondiano, which still today can be visited. In the following centuries Chiusi was also the seat of a Lombard duchy, and after that, a period of decadence began. The most critical time coincided with the swamping of the Chiana Valley: only in the nineteenth century had the complete reclamation of the valley restored its importance. Thanks to its location, the city is a crossroads of trade that has facilitated the establishment of productive, commercial, agricultural and handicraft activities. Oil, wine, honey, vegetables, products of the lake and of the land are the main food and drink resources. Museums, tombs and necropolises, the underground city and lake, the Cathedral and Catacombs are the sites of historical/archaeological interest. Lake, Towers and "Sentiero della Bonifica" (Reclamation Trail) are sites of natural/wildlife/environmental interest.