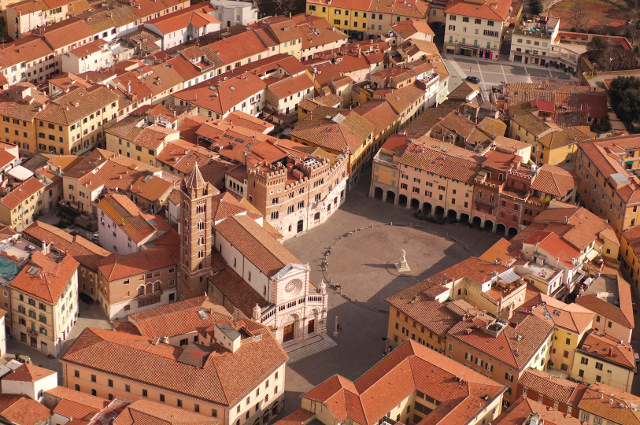 CULTURA E SAPORI DEL TERRITORIO
In the centre of a green coastal plain, Grosseto stands out with its clear outline of the Medici city walls, which are perfectly preserved. A few bodies of water, crowded with migratory birds, remain to testify a past of swamps and malaria, now rightly forgotten. On the hills bordering the plain rises the Etruscan Roselle, which served as a control of the Ombrone valley and of the ancient roads of communication between the coast and the interior and reference point of a vast agricultural land. The long and prosperous life of the city continued with the Romans, who enhanced it with marble buildings and populated it with statues, only to end in the height of the middle ages when the role of the major city passed to Grosseto, together with the Episcopal see. It cannot be denied that the subsequent centuries have been marked by depopulation and abandonment, but precisely those difficult periods have ensured the preservation of an extraordinary natural landscape, which has in the Natural Park of the Maremma, the best-known and most visited example, but certainly not the only one.
The link with the Etruscan and Roman age, however, is very strong: the Maremma coast, from Roselle to Vulci, has already been characterised since the seventh century B.C. for its wine-producing vocation, which is once again appreciated in our days. Today we can reconstruct the routes of Etruscan and then Roman wine that from the ancient ports of the Maremma coast sailed upwards along the Mediterranean until the Rhone valley, where there were the Gauls, won over by the beverage that they would not yet be able to produce on their own for many more years.  But the moment is not too far away when even the DNA of the most ancient vines will have no more secrets.
Archaeological sites and museums, uncontaminated landscapes, welcoming beaches, food and wine constitute therefore the cultural and tourist offering that the visitor who chooses Grosseto and the Maremma as the destination finds laid out before him or her, but with the added value of the continuity with a grand historical tradition.