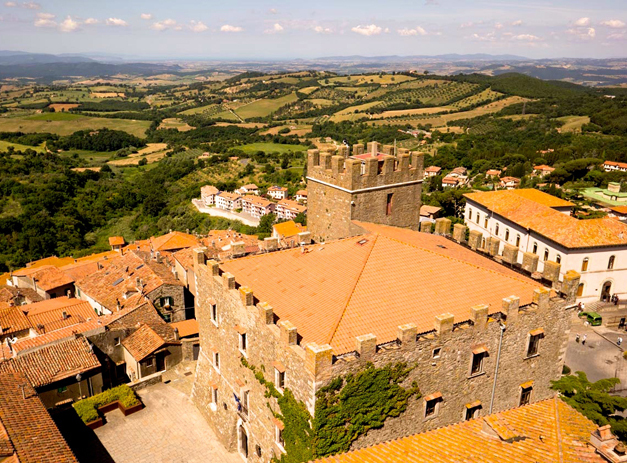 CULTURA E SAPORI DEL TERRITORIO
Manciano, "lookout of the Maremma", dominates, from the top of a hill located between the valleys of Fiora and of Albegna, the heart of ancient Etruria, from the promontory of Piombino to the coast of Civitavecchia, from Monte Amiata to the islands of the Tuscan archipelago, up to glimpsing, from the tower of the castle, Corsica, beyond the Tyrrhenian Sea.
Heir of the ancient Etruscan town of Caletra and of Aurinia/Saturnia, mythical dwelling of the god of the Golden Age, it preserves in its municipal territory considerable traces of its illustrious past, from the huts of the villages of the late bronze age, the origin of the Etruscan culture, to the tombs of the princes of the Ager Caletranus: from the "dolmenic" tombs of Saturnia, already admired since the 1800s and at one time deemed to be of prehistoric origin, to the burial mounds and tombs in the form of a circle of Marsiliana, explored in the early 1900s by Prince Corsini, the jewellery of which is one of the treasures of the Archaeological Museum of Florence.
Recent excavations in the area of Marsiliana d'Albegna, in particular, have brought to light evident traces of the presence of numerous farmhouses dating back to the sixth-fifth century B.C.; here, oil was certainly produced, intended for the conservation of fish and for trade, even today one of the most important resources of this territory, but also wine, which had a fundamental role in religious ceremonies and in social relations, as demonstrated by the remains found in the necropolises in the area. Wine production was already an important economic resource for this territory, subject to a vast radius of export, indicated by the distribution of the characteristic transport amphora, the production rejects of these vessels were found also at Marsiliana, a production which reaches the distant coasts of France. On the other hand, still today the hills of the town of Manciano are included within the area of production of two important DOC wines of Tuscany, such as Morellino di Scansano and Bianco di Pitigliano.