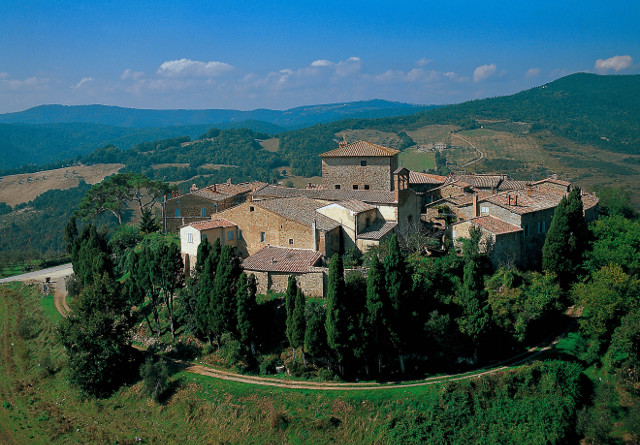 CULTURA E SAPORI DEL TERRITORIO
Murlo is famous the world over for its Etruscan heritage, visible not only in the ruins of the famous grand palace, but ideally traceable in the blood of the local population: the DNA of the people of Murli, in fact, has been analysed by scholars precisely in the hopes of making a decisive contribution to the age-old diatribe regarding the origins of the Etruscans. But the real character of Murlo is the "cappellone" (man wearing a big hat), ancient acroterion originally located on the roof of the Etruscan palace of Poggio Civitate, with his broad-brimmed hat.
But this territory has so many other stories to tell. For centuries it was the feudal stronghold of the bishops of Siena, who had left extraordinary castles here, one of which now serves as the splendid museum dedicated to the Etruscan finds in the area.
Another of its stories is linked to the mines, created toward the end of the 9th century following the discovery of the coal deposits of Pratacci. The production area has had a profound impact on the local economy, lasting up until its recent closure. Today it is the forest that preserves the few remaining signs of the mining economy of Murlo. Strolling in the infinite woods that cover the territory, one happens upon mines and tunnels, but one also discovers springs, small settlements, even the tracks of the railway for the coal. Trails and roads that speak of a human presence rich in popular culture.
There are, then, remains of ancient monasteries, churches, palaces, farms, in a poetic hilly landscape: we are in the heart of southern Tuscany, about twenty kilometres south of Siena.
And from 2 July to 3 August 2015, Murlo launches Bluetrusco: a major event, in the name of the ancient people, with archaeologists, jazz musicians, personalities from the world of theatre, culture, and the inhabitants themselves who are the protagonists.
In any case, Murlo is a discovery. The perfect place, with its altitude between 300 and 500 metres: like an island, far away from the crowds, in an archipelago rich in pearls.
Traditions, lifestyles of a civilisation born three thousand years ago and one that has been open, since its formation phase, to contributions that have come from afar. A civilisation affected by continuous contamination and transformations that manages to remain vibrant. Because of this, only in Murlo, a "journey with the Etruscans of yesterday and today" becomes absolutely factual, to say nothing of inevitable.