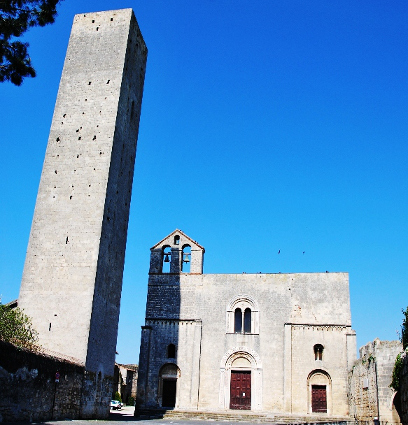 CULTURA E SAPORI DEL TERRITORIO
Tarquinia is strategically situated between two rivers, on a hill close to the sea. Not far from Rome, Tuscany and Umbria, it boasts an immeasurable heritage of history, archaeology, nature and gastronomic tradition.
The outline of Tarquinia stands out in the distance. The city is outlined clearly: first its numerous soaring towers, then the solid walls of golden macco stone and finally the Tower and the ancient roofs of the medieval village, its beautiful gardens bordering the scenic lookouts, its beautiful Romanesque churches which testify to the richness of this oasis that was the destination of illustrious personalities and residence of popes, princes and kings.
Its monumental palaces are treasures of architecture and history. The historical centre is rich in characteristic architectural elements of the middle ages called "profferli", external staircases that in this area were true works of art as well as a multitude of arches, arcades, mighty turreted buildings and austere churches among which are the ancient churches of San Martino and Santa Maria in Castello, dating back to the 12th century.
The territory is luxuriant, for pleasant rides on horseback through the woods and vegetation or along the coast until reaching the village of Saline, which is currently home to a Natural Reserve.
But the most precious treasure is the archaeological area of the Etruscan age when Tarquinia was unmatched for its power, culture and splendour. Witness to this are the Acropolis, the area of Gravisca and the Necropolis, with its subterranean tombs decorated with wall paintings that still preserve their majesty. The most important discoveries are exhibited in the National Archeological Museum Tarquiniense, housed in Palazzo Vitelleschi, dating back to the 15th century, where one also finds the fictile masterpiece of the winged horses, emblem of the city.
Its vocation for agriculture and livestock farming has roots in the distant past. Many highly valued products, some truly exclusive ones, such as the Maremma cattle and the ferlengo mushroom, are present only in this territory and in Sardinia. Not to be missed is the food and wine event DiVino Etrusco, which traditionally takes place during the first weekend in August.