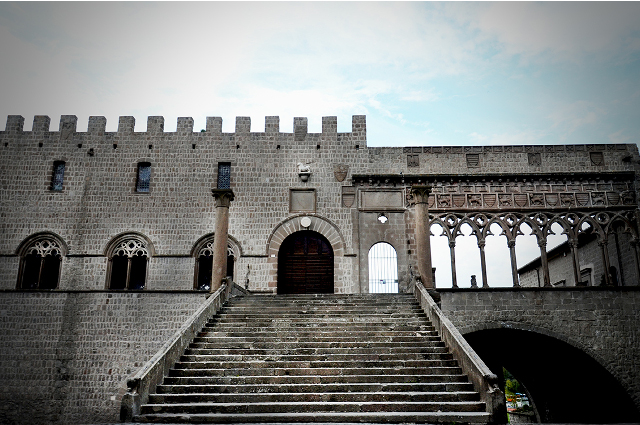 CULTURA E SAPORI DEL TERRITORIO
Viterbo lies in the hills at the foot of the Cimini mountains, among volcanic lakes, near the Tyrrhenian Sea, crossed by the Urcionio River and mentioned by Dante in his Inferno, in canto XIV, for its numerous springs of sulphurous water.
Its excellent geographical position has favoured human settlements since the protohistoric period and then with the Etruscans, whose civilisation left timeless and special remains in the imposing cave necropolises, carved in the rock along the steep walls of the ravines of ditches and streams.
The history and landscape, the Romans and the Silva Cimina, place of obscure appearances and impenetrable thickets that, proudly, opposed the spread of the Roman Legions in the territory of the Etruscans.
Viterbo itself boasts beautiful city walls, gates, fountains and towers which arose over time, starting in the middle ages, that is, when the city, pledging loyalty to the Guelphs, would always remain faithful to the Popes, several of whom had their papal residence here.
Viterbo lives a profound spirituality, generatrix of churches and of Saints, such as Rosa, whose name still today survives in the antique tradition of the 'Machine', giant pinnacle carried on the shoulders of a hundred men from Viterbo and recently entered among the lists of intangible heritage of humanity.
Today nature is benign in this territory rich in woods and timber; human activities are eco-sustainable, in food and wine as well as in the breeding of sheep and goats and in the agricultural-pastoral produce.
Already the Etruscans were enamoured of the cheese produced in this area so rich in water and woods and with its endless pasture for their flocks, just as the Romans very carefully tended their crops of olives and their vineyards.
In the two archaeological museums of Viterbo – the Municipal "Luigi Rossi Danielli" and the National Etruscan Rocca Albornoz – one can imagine the echo of the voices and habits of banqueting of the wealthiest households thanks to the cups and goblets, to the kantharoi and kylikes in which the wine flowed to cheer the symposia, with women lounging and feasting together with men, enjoying with each other the timeless pleasures offered by good food.